An Easy Way to get your NPWT Patients Transitioned Home:
The 3M™ V.A.C.® Ready Care Program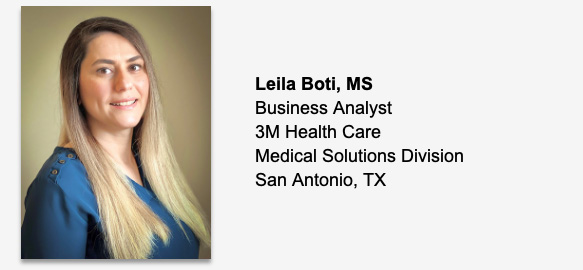 Delays in transitioning hospitalized patients home have been associated with increased cost, greater risk of infection, lower patient satisfaction and even mortality.1 Easing logistics and facilitating the transition of NPWT patients out of acute care may reduce hospital costs and improve patient quality of life.2 The 3M™ V.A.C.® Ready Care Program is a free onsite consignment program that helps facilitate patient transitions from an acute inpatient setting to an outpatient care setting. Post-acute 3M™ ActiV.A.C.™ Therapy Units and Kits are stored within enrolled acute care facilities for easier access when discharging V.A.C.® Therapy patients home.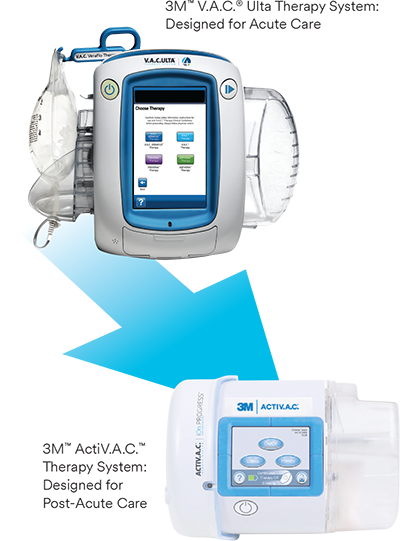 The V.A.C.® Ready Care Program is designed to support everyone involved in the post-acute care transition process.

Benefits of the V.A.C.® Ready Care Program
Eliminates discharge delays related to delivery of V.A.C.® Therapy products

Ensures the ActiV.A.C. Therapy System is ready to go with the patient immediately upon insurance approval

May help improve patient satisfaction due to smoother discharge process
Evidence of shorter inpatient length of V.A.C.® Therapy
A recent data analysis showed that length of inpatient therapy was shorter for V.A.C.® Therapy patients in hospitals actively participating in the V.A.C.® Ready Care Program: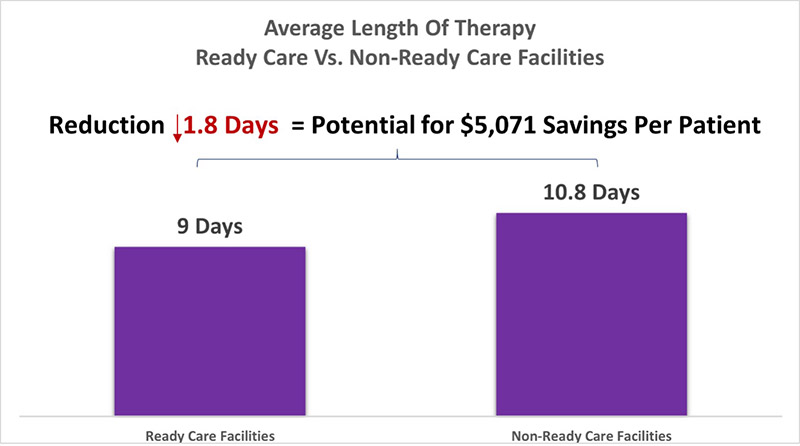 A recent analysis of inpatient orders for transitioning from acute to homecare with an ActiV.A.C. Therapy Unit indicated that the average length of inpatient therapy for V.A.C.® Ready Care Program customers was 1.8 days shorter (9.0 vs 10.8; p<0.0001) versus Non-Ready Care customers.3
The analysis estimated a hospital savings of approximately $5,0714 per patient in active V.A.C.® Ready Care Program facilities, based on a shorter average inpatient stay.
How do hospitals enroll in this program?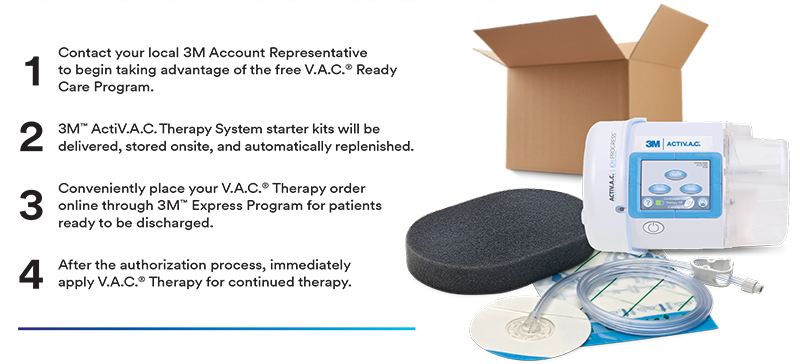 Conclusion
Incorporating the V.A.C.® Ready Care Program may ease the process of discharging V.A.C.® Therapy patients from acute care, potentially leading to shortened inpatient duration of V.A.C.® Therapy as well as time and cost savings for hospitals.
For additional information, please contact your local 3M Account Representative or visit us.
References
Rojas-García A, Turner S, Pizzo E, et al. Impact and experiences of delayed discharge: A mixed-studies systematic review. Health Expect. 2018 Feb;21(1):41-56.

Thorup CB, Hougaard M, Blindum PF, et al. Hospitalised patients' experiences during Negative Pressure Wound Therapy due to surgical site infection after vascular and cardiac surgery. Int Wound J. 2018 Oct;15(5):707-716.

Boti L, Soloway L, Myers D, Pillai D, Zabihi J. Decreased health care expenditure and average length of therapy with facilitated transition discharge program for negative pressure wound therapy patients. In: Symposium on Advanced Wound Care Spring/Wound Healing Society; April 6-10, 2022; Phoenix, Arizona.

HCUP Reports. Healthcare Cost and Utilization Project (HCUP). Hospital Inpatient National Statistics 2017 (non-neonatal, non-maternal discharges only). Agency for Healthcare Research and Quality, Rockville, MD. www.hcup-us.ahrq.gov/reports.jsp. Accessed Oct. 27, 2021.

---
NOTE: Specific indications, contraindications, warnings, precautions and safety information exist for these products and therapies. Please consult a clinician and product labeling prior to application. Rx only.

Do you have questions regarding the 3M™ V.A.C.® Ready Care Program?
Connect with a 3M Account Representative to learn more.